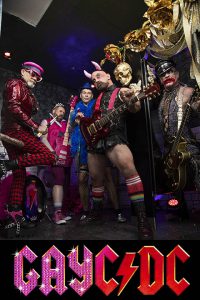 Taking "the songs of perhaps the globe's most heterosexual band and turning them into something altogether more fabulous," (Classic Rock Magazine), the glitter hugged and boa-frocked "GayC/DC is literally the gayest AC/DC cover band out there" (Metal Injection). Reworking AC/DC's uber-hetero-leaning catalog and tweaking it ever so slightly in a gay way (not that there's anything wrong with it), they transform the classics into songs like "Dirty Dudes (Done Dirt Cheap)," "Big Balls" (which obviously didn't really require any changes at all), and their most recent cover "It's A Long Way To The Top (If You Wanna Rock 'n' Roll)."
While the band and their presentation may be campy, their musicianship is pure, unadulterated rock. Founded by Freeman (who also plays bass for Pansy Division) and drummer Brian Welch, the idea for GayC/DC came from bouncing around names for more tribute bands with gay members after they'd been playing with the Gay Gay's, a gay tribute to the Go Go's. After the Gay Gay's went on hiatus, they moved forward with forming a band that could be as good as AC/DC. Rounding out the band alongside Freeman and Welch, bassist Glen Pavan, lead guitarist Steve McKnight and Clint Yeager on rhythm guitar, adding their stamp into the fun as they celebrate their ten year anniversary.
Embracing their metal identities as tightly as their trousers would allow, GayC/DC not only want to rock but to inspire as well. "When we put this band together, we envisioned playing a few shows for our friends here and there, maybe at [gay club] The Eagle LA or someone's house. Maybe even a San Francisco show," says Welch. "But then we were blown away by the reception we got at our first show. And that's when we really started to see the potential reach of this band. We knew we could make a splash, and maybe some young LGBTQ kid would see us and be inspired to strike out on their own and start their own queer band too. The more, the merrier, right?"
"The last three years have really been a buzz kill, and we know just the cure for those shut-in blues: a healthy dose of raw rock energy and bawdy glamor," says Freeman. "Dress to kill and bring your ear plugs… it's gonna be loud!" GayC/DC is Chris Freeman (vocals), Brian Welch (drums), Steve McKnight (guitars), Glen Pavan (bass) and Clint Yeager (rhythm guitar).