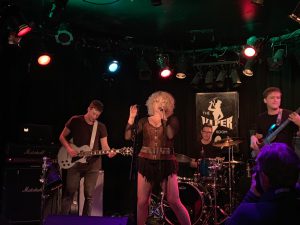 Savannah Pope is a critically acclaimed rock singer / songwriter who boasts stunning lyricism, vocal power, and visual presence.
Formerly the lead vocalist of award-winning glam rock group SpaceCream, Savannah has been a fixture in the Los Angeles music scene for several years, opening for international acts like Starcrawler and Jesse Hughes. Since breaking into a solo career just over a year ago, she has wowed fans and press alike with her growing artistic presence. LA Weekly recently named her Best Hard Rock artist, and Yahoo Music picked her "Creature" music video for their top 20 catalog, marking her as a formidable underdog in a catalog of major artists.
Perhaps the best way to immerse oneself in Savannah's world is to see her onstage. Savannah utilizes her live performances to present a new brand of art rock steeped in glam and prog; an unpaired blend of riveting musicianship, garish style, and theatricality.